Ask any seasoned parent, and they'll tell you potty training a little one can be one of the most frustrating and trying times in their lives. For something so seemingly simple, something adults don't even remember learning, the transition from diapers to big kid underwear can seem very complicated. When should you start training your child? Should you go gradually or go all-in? Which is best – pull-ups, night time diapers, training underwear, or regular panties? If you think it might be time to start using a big boy potty in your house, take a deep breath and check out our tips for ditching the diapers and discovering every public restroom in a 30 mile radius.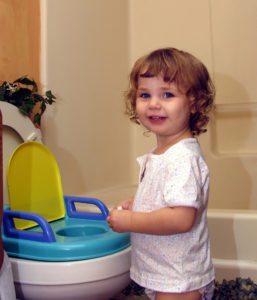 Are You Ready?
To determine if your little bit is ready for potty training, see if he or she hits most of the marks here:
Acts interested in the potty, underwear, and the bathroom in general
Can follow simple instructions
Understands basic words relating to the potty
Can keep a diaper dry for 2 or more hours and control the muscles needed to "go"
Tells you when he or she is wet or dirty or needs to go
Can pull pants up and down
And, most importantly, does your child seem ready to you?
Make the Time
Once you've made the decision to try potty training, find a convenient time where you'll be mostly at home, free from distractions, and able to focus just on your child. You might mark the day on the family calendar a few weeks out and talk to your kid about the special potty party you're planning for them on the special date. Don't schedule any major outings for the few days after your planned start date, and it can be helpful if both parents are involved or there's a grandparent or close friend available if you do need to leave for a few hours.
Talk it Up
Kids love a big event in their honor, so why not make potty training fun for them? Come up with a special song or jingle to sing when it's time to go to the potty. Make a big colorful chart to put stickers on every time they try or succeed. Have bigger siblings join in cheering them on. Get their preschool teachers, grandparents, and other family in on talking up the celebration. And in the days or weeks leading up to their Potty Party, talk to them about how it all works – stopping playing when they feel they need to go, running to make it to the potty on time, sitting on the potty while they wait for something to happen, and the big claps and high fives they'll get when they're done. Say these things over and over and over again until they can tell you themselves what will happen when they stop wearing diapers. Let them see you using the potty too, so they know it's easy and not-at-all scary.
Gather Your Supplies
If you're using a potty chair or potty seat, bring it out in advance of the event, so your child can become familiar with it. Some families find putting a potty chair in the family room, or a place where your kid spends the most time, is an easier transition that putting it in the bathroom right away. If you're going all in for the boot camp method (where you toss any safety diapers and hunker down for 3 days of training), make sure you have plenty of undies on hand – 20 to 30 pairs at least. Towels, cleaning supplies, extra sheets, mattress pads, clean clothes, and even disposable puppy pads (to place on a couch or chair where your child is sitting) should be easily accessible for quick cleanups. If you're using the slower pull-up method of training, it's still a good idea to keep supplies on hand for leaks or misses when they're sitting on the potty. Bribing does seem to play a big role in potty training toddlers, so decide if you're going stickers, candy, screen time, some combination, or something else, and stock up.
Choose Your Method
If you're easing into panties from diapers by way of the pull-up, you'll want to check in with your child frequently to see if they need to go or have already gone in the pull-up. Feeling wet or dirty is very similar to how it feels in a diaper to them, so you'll need to give them reminders to try. Let them sit on the potty as often as they want or schedule potty breaks every 20-30 minutes during your day. Offer lots of drinks throughout the day to give them more opportunities to feel that full bladder and tell you they need to go-go-go.
If you choose the faster straight-to-underwear method, you'll still want to remind them frequently about the potty and ask if they want to try to go, offering lots to eat and drink as well. They'll be learning what that urge sensation feels like, and how to control it, and it can take a few days to click. If they start to have an accident and wet or soil their pants, carry them quickly to the potty so they can "finish" where they're supposed to go. This reinforces the connection of the urge feeling and sitting on the potty. You may think they'll never get it after you clean up your 15th puddle of the day, but generally by day 3 something clicks and they start having fewer and fewer accidents until you feel confident turning your back to wash the dishes or go to the bathroom yourself.
Other Concerns
Many times, going number two can take twice as long (or longer) to master. It's common for kids to insist on a diaper to go, only go when napping, have frequent accidents, or hold it until you're concerned for their colon. Find a gentle method to keep encouraging your preschooler while maintaining your sanity – be it double-layer panties and pull-ups, offering as many high fiber foods and fluids as you can find, extra incentives like stickers or candy, or even ignoring it as an issue until they figure it out on their own.
And just like with pooping, staying dry through the night can be a more difficult skill to master. Some kids seem to automatically make the transition once they understand how to hold it, some take you back to newborn days with frequent wee hours wake-ups to go wee, and some others need extra protection at night for a lot longer, even years, before they can wake up dry. All of this is normal. Just go with whatever flow your child seems to be on and arm yourself with supplies (caffeine? mattress pads?) as needed.
Above all, try and maintain a positive, encouraging, and patient attitude as much as possible. Kids respond much more to easy-going acceptance of accidents and patience during the learning process than they do to punishment or yelling when the inevitable dribble occurs. Even if your kid has been accident free for months, the occasional backsliding is normal. Just resume the reminders, rewards, and whatever bribes worked the first time and trust they'll be back to going regularly soon.
Articles You May Also Enjoy
---
Emily Brown is a preschool teacher, freelance writer, and mom to two energetic, funny little girls with a flair for drama and a shared love of cheese and pickles. She's also written a book on the history and food of restaurants in Birmingham, AL called Birmingham Food: A Magic City Menu.