Planning on a road trip with kids?  Is there any scene that that brings up more dreaded imagery of too much family in tight quarters breaking down and attacking each other? I mean, besides Christmas? Don't worry. We're continuing our series on summer travel this week with none other than the good old fashioned automobile. So crack open the window to that station wagon and rest that elbow on the door because you've got this family trip on lockdown.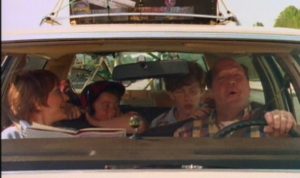 Where the breakdown happens
I clearly remember the several languishing hours we were left riding in the back seat of the car. My brother, sister and I had nothing but our own minds and hands to entertain ourselves with. So of course, inevitably, we started smacking each other around.
If my mother remembered or had time to pack a snack it would be something that none of us would consider eating. Our trips were doomed even before we departed. Simple reason: preperation. You need to be prepared when embarking upon a road trip with kids. Thinking ahead about all the possibilities will enable you to have all the tools at the ready. Just like Gary and his bag on Veep.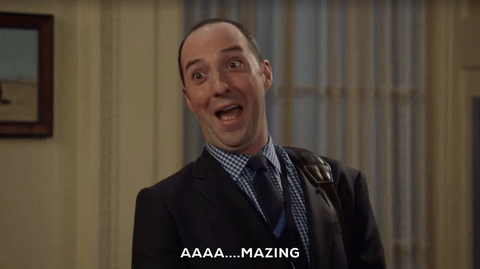 Prep the car
This is such a key element, and the most overlooked, of any safe and calm road trip with kids. Start with your car. If the car's not ready how could anything possibly go well? It'll all downhill from there. I'm not talking about just putting gas in the tank.
Do yourself a favor, get your car checked out before you start your road trip. It may take a little time to get maintenance done, but do you really want to be stuck on the side of the road in the summer heat waiting for AAA to replace your A/C unit belt? Or sending dad down the road for some gas? Check off the rest of the car prep items below before you head out on the road.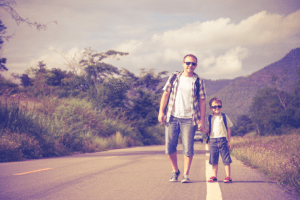 Clean your car. A clean car is a happy car. Clean car, clean mind. Those old food wrappers and large toys that you left behind will get in the way and start to pick at your ADD. Get rid of them now.
Make sure you service your car. Check with your local mechanic or dealer.
Fill up your tank. All the way. Seriously, don't risk it.
Check your GPS and preprogram your route with all stops.
Include enough stops along the way for you and the kids to stop, stretch, bathroom and food breaks.
Breaking up the monotony will keep your kids from going stir crazy.
Check your roadside assistance if you have it. Make sure you're up to date and active.
Pack the car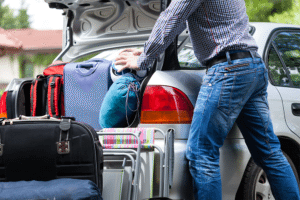 Now that the car is cleaned, serviced and ready to go we get to load it up with all the essentials to make sure you've got smooth sailing again.
Unrefrigerated snacks.
Bottled water.
Kitchen trash bags.
Sunglasses.
Wipes.
Phone charger cable and adapter.
Flash light.
Jumper cables
AAA card or whatever roadside assistance you use.
Blankets and pillows
Road side distractibles
First get a killer road trip playlist. Then you need to think of things to keep your kids busy. You wish they would sleep the whole trip but we know that not going to happen and I highly encourage you to get them away from the portable screens. Here are a few classics with an updated design for the car. They're all magnetic. Yep! No pieces falling off the board!
Tic Tac Toe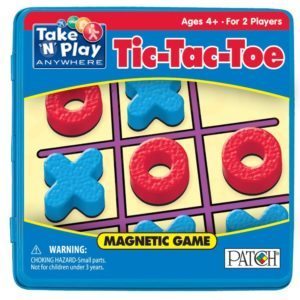 This is the game we loved to play. Perfect for those two back seat passengers. Since it's magnetic, it's the perfect choice for a road trip with kids.
Hang Man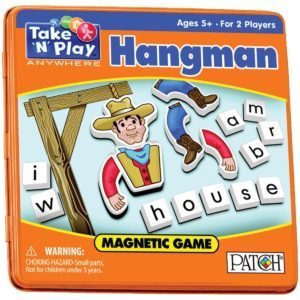 Another great classic. A play game sprinkled with spelling, word recognition, and loads of fun. It's a wonderful way to keep your kids learning during summer break.
Colorforms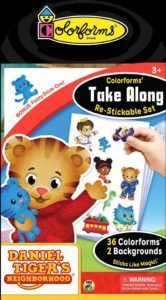 Sticks like magic to the car windows. A kid's favorite that they will enjoy on short trips to the grocery store or long trips to grandma condo in Boca Raton.
Free Printable Travel Scavenger Hunt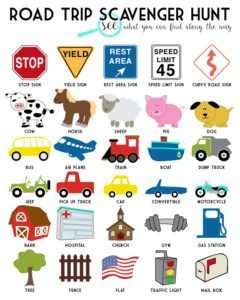 This is a ton of fun and will keep kids busy for quite awhile. Offer prizes for the winner and they will want to play it over and over.
Let's Go
Congrats! You've thought of everything! You prepped the car, the snacks and the distractions. You're on your way to a great road trip with the whole family. Now if only we could think of a place to go. Make wonderful happy memories together and travel safely. Oh, and I almost forgot. In the immortal words of my mother, "Everybody wring it out before we leave."
How do you prep for a road trip with kids?