Once the calendar turns to November, suddenly IT'S HERE! The season of family and stress and joy and food and presents and presence is upon us. With all the social duties the holiday season brings, it can be easy to forget the reasons we created these traditions in the first place–to gather with family and friends and celebrate the bounty in our lives.
With this in mind, I recommend finding a few moments to slow down and enjoy the season, one holiday at a time, with your little ones. Encourage them to figure out what they're thankful for and tell them the story of Grandma's sausage stuffing and why you make it every year. Show them you appreciate your own blessings, and they'll look forward to sharing their own happiness with everyone as you get ready for the big Thanksgiving meal. Their holiday spirit can be infectious.
(Note: be sure to supervise when little ones are crafting, especially when items can be choking hazards!)
Blessings Tree: I worked in an office one year that had a blessings tree in the break room, and I've never forgotten how such a simple craft helped keep the focus on what matters during Thanksgiving. To create one of your own, fill a large glass jar or vase with long branches that your toddler helps you collect—the more twigs per branch, the better. You can wrap the jar in festive ribbon or fill it with a mixture of dried beans and popcorn kernels to help stabilize the branches. Punch holes and tie yarn through cut-out leaf shapes, and have each member of your family write down what they're grateful for on different leaves, then hang them on the blessings tree. Add to it anytime you're feeling the stress of the season, and encourage your kids to do the same once a day or once a week.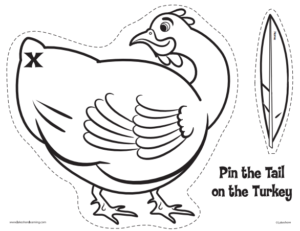 Pin the Tail on the Turkey: Keep your preschoolers occupied during meal prep on Thanksgiving by printing out this fun variation on pin the tail on the donkey. Let them color their own turkeys and feathers, then delegate a grandparent or older cousin for cutting and supervising duty during the game. You can use craft store feathers in place of the paper ones for a fun, sensory experience. And a circle of tape on the back of each feather is safe for small hands to "pin" their turkeys.
Pine Cone Place Markers: Help everyone find their place for Thanksgiving dinner with these place markers inspired by nature. Get outside for a nature walk and ask your preschooler to help you collect pretty (un-squished) pine cones, enough for each person you'll have at dinner. Write out names on card stock and nest names between pine cone spikes. This is a good opportunity to have older preschoolers practice their lettering by letting them write out each person's first initial before you fill in the rest. Younger siblings can color in the card stock before you write on it. If you're feeling super adventurous, you can let your kids roll the pine cones in glue and glitter to decorate them further.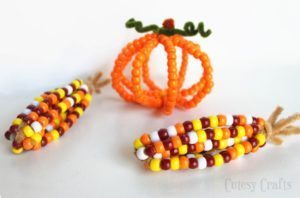 Pony Bead Corn: While you're talking about pilgrims and the first Americans, get your kids to work on their fine motor skills by threading pony beads onto pipe cleaners to make these cute Native American corn decorations. You'll need four tan pipe cleaners and pony beads in white, orange, yellow, and maroon for each "ear." Then follow this simple tutorial and watch the patterns emerge.
Sharing Cookies: Since you're already talking about blessings and thankfulness with your preschoolers, help them learn the importance of sharing their fortune with others during the holidays. Make up a batch of your favorite cookies and wrap them up to deliver to a local shelter or senior center. If you have a fierce animal lover, you can always make the cookies dog biscuits or sweet potato jerky and share with your neighborhood dog pals.
Articles You May Also Enjoy
---
Emily Brown is a preschool teacher, freelance writer, and mom to two energetic, funny little girls with a flair for drama and a shared love of cheese and pickles. She's also written a book on the history and food of restaurants in Birmingham, AL called Birmingham Food: A Magic City Menu.