Lots of experts say getting your kids to help you in the kitchen is a surefire path to getting them interested in healthy eating. The same is true of making cookies — without all the cajoling and vegetable disguise, of course. But even if you're just baking up a sugary confection with your kids, the very act of spending time together, getting messy, and having fun is the perfect way to slow down and reconnect with each other, especially during the busy holiday season. And if you're cooking for gifting purposes? Two birds, and all that… To help you get started, we've gathered our top 10 favorite cookie recipes to make with your kids this Christmas. Betcha can't eat just one!
Thumbprint Cookies: What says "the kids made these" and is cuter than thumbprint cookies? Not much! A few simple ingredients means whipping up these jam-filled treats is a snap, and your little ones will enjoy helping you crack eggs, rolling the dough into balls and then in sugar, and (most of all) pressing their thumbs in the dough to make the hollow for the filling.
From Cooking With Caleb
Snickerdoodles: Even the name "snickerdoodles" sounds like Christmas, something the elves might make, maybe. And the fun part of this recipe is completely made for little kid hands. Once the batter is mixed, have your kids roll the dough into small balls and then into the cinnamon-sugar mixture before baking. Be prepared for snickerdoodle dust to coat your kitchen floor after this, but you'll take the kids off the naughty list once you taste these delicately spiced cookies.
Nutbutter Kiss Cookies: We're peanut-free at my house, so we'd have to sub almond or cashew butter for the peanut butter, but these cute cookies won't suffer from the change. The best part of making these might be unwrapping the dozens of chocolate kisses (and eating a few in the process). And your little ones will enjoy pressing the kisses into the still-warm cookies, too. You'll want to be sure to take the cookies off the hot pan and place onto a wire rack or plate before letting the kids help.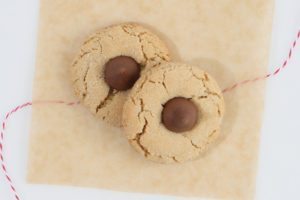 From Epicurious
Cake Batter Sandwich Cookies: A friend gave me this foolproof recipe one year, and I've made endless variations since. Soften a block of cream cheese and half a stick of butter, stir in a box of any flavor cake mix until completely incorporated. Roll into balls (with the kids' help) and bake at 350 degrees for 7-10 minutes. When cool, ice the bottom (flat) half of one cookie and sandwich another on top. My girls love using cheese spreader knives to spread the icing and smooshing the sandwiches together. We've done Red Velvet and Cream Cheese Icing, Devil's Food and Peanut Butter, Orange Cake and Vanilla, and others that were all equally delicious.
S'mores Cookies: The beauty of s'mores without the worry of a campfire means these cookies are extra kid-friendly. You can prep the oaty "graham cracker" base during nap time and save adding the chocolate squares and halved marshmallows for when the kids wake up. Just pull up the Yule Log on YouTube, and you're ready to go.
Classic Chocolate Chip: The great thing about this version of a classic recipe is there's no mixing or heavy equipment required. Since the butter is melted, you'll just stir everything together in a bowl, which is perfect for having the kids help with every step. Pull up a stool or chair to the counter for them to stand on, and let them help you measure, pour, and stir the batter before dropping it onto the pan.
Gingerbread Men: Gingerbread Men are the holiday cookie, in my book, and this recipe has been adapted for little kid palates while maintaining its signature gingery bite. You'll have to do a bit of the heavy lifting in mixing the dough and rolling it out, but once it's time for cookie cutters, and then later decorating, the little ones will have a field day.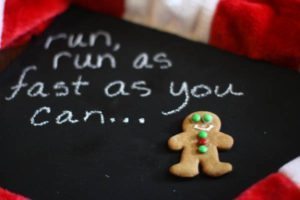 From A Southern Fairytale
Sugar Stars: Another great recipe for getting creative on the decorating front, you can let your preschoolers shake on sprinkles or fancy colored sugar before baking, if you're in a hurry, or let them ice the cookies when they're cool for even more visual impact. New paint brushes, spoon backs, and small zip-top bags with a hole snipped in one corner are all good icing tools for little hands. Be sure to build in time for letting the dough chill in the refrigerator, and choose your favorite holiday cookie cutter shapes, like stars or trees or angels, for maximum festive appeal.
Candy Cane Rice Krispy Treats: Rice Krispy Treats are possibly the easiest kid "cookie" to make, since minimal heat and wait time before eating are required. Add in the flavors of the Christmas season by mixing in crushed up candy canes and white chocolate pieces. Kids can break candy canes with their hands, or you can let them smash them on a rimmed cookie sheet with a heavy wooden spoon or small saucepan.
Hot Chocolate Cookies: What's more Christmasy than a warm cup of hot chocolate, marshmallows bobbing on top and slowly melting into velvety goodness? Now you and your kids can enjoy their favorite hot beverage in cookie form. The batter includes actual hot chocolate mix packets, which the little ones will enjoy tearing into and pouring into a bowl. Let them go crazy stirring in the chocolate chips and mini marshmallows too!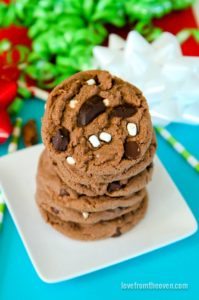 From Love From the Oven
What are your favorite holiday cookie recipes? Anything we missed?
Articles You May Also Enjoy
---
Emily Brown is a preschool teacher, freelance writer, and mom to two energetic, funny little girls with a flair for drama and a shared love of cheese and pickles. She's also written a book on the history and food of restaurants in Birmingham, AL called Birmingham Food: A Magic City Menu.