Pets are a big responsibility. Bringing a furry (or feathered or scaly) critter into your home means feeding and taking care of another being for a long time, sometimes decades. It's a big commitment. So choosing which pet is right for your family, be it dog or cat or a tank full of fish, is a decision you should consider carefully. We've got the breakdown on how to pick the perfect pal for you and your little ones, everything to think of from species to naming. Just follow along with these 7 steps.
From PetBreeds.com
1. Plan Carefully. Adopting a pet is no time for impulse shopping. You'll want to make sure you're completely ready to bring a new love into your life. Like right before you leave town for a big vacation or give birth to your third child might not be the best time. Do your research on species/breed temperament, lifespan, and level of attention and care required. Beyond standard dogs, cats, and fish, you might look into birds, reptiles like iguanas, hamsters/gerbils/guinea pigs, ferrets, pot-bellied pigs, rabbits, or something really exotic like monkeys.
2. Factor in Your Lifestyle. Do you live in a house with a big fenced-in yard or on a busy street or in an apartment? Do you spend most of the day at work or away from home? Most cat breeds don't mind alone time. Who would care for a pet when you travel? Do any of your family members have allergies to pet hair or dander? Some dog breeds are perfect for that. Are you a clean freak that can't stand the idea of a house covered in fur or the smell of a litter box? Are you a snuggler who'd love a lap pet? Chances are, if you have small children your home is basically pet proof, but do you have any furniture you'd hate to see chewed? An older pet may be the answer there. As with any big change, think about the adjustment period adopting a new pet will bring for your family. What can you do to ease everyone through it?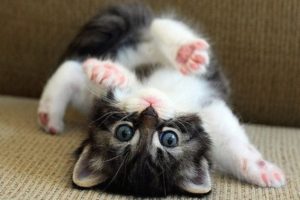 From ILoveCats.com
3. Think About Cost. If you're set on a pure breed animal, be prepared to shell out the big bucks. Or maybe a neighbor's dog recently had puppies they're just begging kind friends to adopt for free. Most animals will need at minimum an annual vet visit for checkups and immunizations, which can add up. Some large veterinarian franchises offer pet insurance, which may help defray costs. Big breeds will cost more to feed than smaller ones. And younger pets might need more toys.
4. Consider Humane Society Adoption. Responsible pet owners with no plans to become breeders spay and neuter their pets, but there are still so many abandoned animals that need good homes. Consider adopting your new furry friend from the Humane Society, and give those animals in need a forever home. More than just rescuing cats and dogs, the Humane Society works to end all animal cruelty. Your adoption supports their cause on many levels. PetFinder.com is a great tool for seeing what kinds of pets are available in your area.
5. Delegate Responsibilities. Bringing a pet into your family is the perfect time to teach your kids about responsibility. Depending on their ages, you can task them with feeding, brushing, walking, and cleaning up after your new four-legged family member. Be prepared to check behind your smaller ones, but even toddlers will love scooping puppy food into a bowl each morning.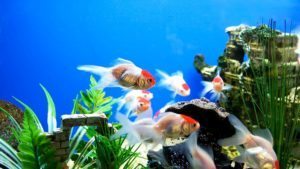 From WishForPets.com
6. Think About Training. If you're not lucky enough to adopt a house-broken pet (or one who automatically goes in its box or enclosure), you may need to plan time at home to train your new friend. Pee pads can be a big help, and just like potty training a small child, you'll want to give your pet the opportunity to go often and stay nearby to catch accidents. For behavior issues, you may want to invest in training classes. If you have a pet likely to roam, ID tags or subcutaneous electronic chips help get them back home if they go missing.
7. Final Steps. One of the most fun parts of adopting a new pet can be choosing a name. Will you go with something classic like Mittens or Spot? Something funny like Scales (for a fish)? Just a name or word you like? Favorite character names from Frozen or Star Wars? Something specific to your new animal's personality? Will you let the kids decide, dangerous endeavor that may be? Think about yelling that name at 7 am on a Saturday morning, standing in your front yard in your pajamas. Still like it? You may have found a winner.
Still can't decide? Check out this fun pet-picker quiz from Animal Planet.
Articles You May Also Enjoy
---
Emily Brown is a preschool teacher, freelance writer, and mom to two energetic, funny little girls with a flair for drama and a shared love of cheese and pickles. She's also written a book on the history and food of restaurants in Birmingham, AL called Birmingham Food: A Magic City Menu.