Are you bribing your child's teacher if you hand them a gift?  Well, it certainly depends on how you look at it. I believe a little schmooze never hurts, however going over the top is not a good either. Something that is too extravagant and could be considered a bribe, but a well thought out gift can certainly go a long way.
Check out our list for the Top 5 Teacher Gifts that are the perfect balance between bribing your child's teacher and poor choices. I polled several teachers about their favorite student gifts to school you on the best options (that also work for coaches and administrators).
Funny & Useful Teacher Bribes Gifts
Start with something your child's teacher could actually use, but please not another coffee mug even if it is funny.  Being a little more thoughtful goes a long way.  A manicure and pedicure at her favorite salon is greatly appreciated.
Search for humorous items that relate to being a teacher. The ultimate example might be these amazing personalized wine bottle labels. Check out this list from Etsy for fun teacher gifts, many of which are also practical.
Simple & Special Teacher Bribes Gifts
Parents think it is oh so darling to take a picture of their child and put it in a frame, really! What exactly is the teacher suppose to do with it?!  Even better yet a tee shirt with your child's hand print on it.  That would be under the category of NO.  A great idea is to send a donation to the children's museum in honor of your child's teacher.  Get a wish list at the beginning of the year  from the teacher and organize parents to make these wishes come true.  Most of the parents will be relieved  and willing to support this idea.  But always be prepared to deal with the two best friends that want to do their own thing. Some people can screw up a free lunch.
Homemade & Yummy Teacher Bribes Gifts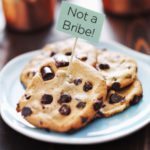 If you know enough about the teacher's food likes/dislikes, a homemade baked good is wonderful, especially one he or she can share with friends and family. An added bonus is that your child can help. Keep it low key and easy, especially when baking for multiple teachers. However, if you don't have much information about your teacher's preferences, baked goods aren't the best choice.
Versatile & Practical Teacher Bribes Gifts
Although giving gift cards, or even cash, may feel a bit impersonal, they consistently show up as a strong preference for teachers. Gift cards to big box stores like Target or Amazon help your teacher cover the cost of classroom items she might normally spend his or her own money on. This gesture shows that you appreciate the sacrifices he or she makes for your child every day and see yourself as an active partner in the classroom.
Fun & Indulgent Teacher Bribes Gifts
Another category of gift card (I told you they were popular) is the not-terribly-practical-but-really-fun kind. Starbucks gift cards are just about universally appreciated. You could also give a card for a local, fun coffee place. Or, look for gift cards to your teacher's favorite restaurant or a place that makes awesome sweet treats like cupcakes, gourmet popsicles, or frozen yogurt. Most teachers would also enjoy gift certificates for luxury services like massages and salon/day spa experiences.. Just make sure the card is for a place that you or someone you know has gone and liked.
If your child is in a public school, be sure to check on restrictions for monetary amounts your teacher can accept from each student – the limit is usually $25. If funds are low, don't feel like you have to spend this amount – there are much cheaper options that your child's teacher would love. It truly is the thought that counts, but some thoughts are a little more useful than others!