It's almost Christmas – the time of year when we check our lists for the second time and notice a few problems: Too much stuff for Kids #1 and #3 – not enough for Kid #2; Remembered all of the cousins – except that one; Thought you weren't seeing your mom's best friend's family for Christmas – but you are. Your elves are on strike and shipping from Amazon is delayed: you have a Full-Blown Toy Emergency on your hands! Don't worry – we've got you covered!
Age 2: Two-year-olds are tricky to buy for because they still put things in their mouths, so look for toys that specifically say they're O.K. for three and under. Here are some fun ones we found: The Roll & Bounce Tower from Fat Brain Toys.


This very simple Rube Goldberg machine helps develop hand-eye coordination and cause-and-effect learning and is safe for kids as young as one. The SmartMax Start Plus is a magnetic building set with extra-large parts too big for toddlers' mouths but a perfect size for their grips. The possibilities for what to construct are endless!


Also sweet for littles is the Bright Beats Dance & Move BeatBo, a singing, dancing robot who teaches basic skills and can record your child's voice to remix into songs.

Age 3: Three-year-olds like to say, "No." A lot. Help them say, "Yes" to bath time with the Alex Rub a Dub Tub Tunes Symphony. This set includes a floating drum, xylophone that can stick to the side of the tube, and five water flutes that play different notes depending on how much you fill them. There are even waterproof music sheets to help your child maybe, eventually, play an actual song. But, probably not because she's only three.

Another fun option is the Educational Insights Design & Drill BrightWorks, which lets kids use a fun "drill" to insert bolts into a board and then light the whole thing up – like a Lite Brite but with power tools! Great for hand-eye coordination, matching, patterning, problem-solving, construction, and fine motor abilities.

Age 4: The Kids First Automobile Engineer Kit includes a storybook for kids to follow along with as they create 10 different vehicles like a fire truck, crane truck, and motorcycle. This toy sparks imagination and introduces kids to simple engineering concepts.

A similar line with fun stories and building options is Goldieblox. Also, check out Robot Turtles, the most-backed board game in Kickstarter history. This game teaches the fundamentals of computer programming to kids ages 4 and up using playing cards. The difficulty level varies by experience of the player so everyone in the family can enjoy it (without anyone having to lose on purpose).

Age 5: The Laser Pegs building sets are similar to Aircraft Engineer but with cool lights and sounds! Your little guys or gals can build multiple models with each set or design some of their own. The Super Copter set, although most expensive, allows kids to make over 30 different vehicles.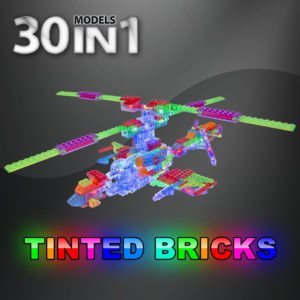 For something simple but intriguing, check out the Tumble Trax Magnetic Marble Run, which includes idea cards and several magnetic pieces that your child can set up on a refrigerator or other magnetic surface for a marble to travel down. Kids learn through trial-and-error how pieces need to be angled for the fastest marble run.

Need more toy ideas? Check out our posts on screen-free toys, Star Wars toys, Top 10 Toys for preschoolers, and puzzles for preschoolers.
Articles You May Also Enjoy
---
Kristen Berthiaume is a clinical psychologist whose other day job is as mom to three willing product testers. Find her articles on all things child-wrangling at "Parenting with a Ph.D." over on birminghammommy.com.