Marshmallow Pops
These sweet treats could not be easier. And they're so versatile and cute. Melt chocolate chips in the microwave or over a double boiler and let cool slightly. Stick one end of a lollipop stick into a jumbo marshmallow, and use the stick as a handle to dip half or all of the marshmallow in the chocolate. Dip in a bowl of Valentine's themed sprinkles and set on a waxed-paper lined cookie sheet to harden.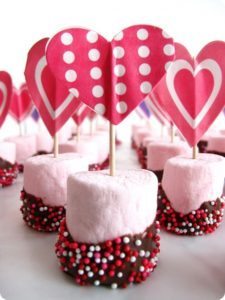 From The Sweet Life
Heart Gumdrops
Gumdrops aren't just for Christmas anymore, and to make these sweeties even more fun, use a larger heart-shaped cookie cutter for giant gumdrops. They're as easy to make as making Jell-O (one of the ingredients), and you can choose different flavors for different colors. Nobody said Valentine's hearts have to be red!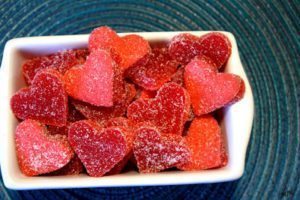 From Melissa's Cuisine
Valentine's Breakfast
Maybe you're really into the whole love holiday thing, and you want to celebrate all day. Start with a festive breakfast of berries and whipped cream parfaits and heart-shaped bacon pancakes. For the parfaits a mix of any red berries, fresh or thawed frozen, will work. For the pancakes, shape two pieces of bacon into a heart in a large skillet, overlapping edges. Cook until starting to crisp, flip, and cook until nearly done. Fill the center with a small amount of pancake batter, cook until small bubbles form all over the batter, flip again to cook the second side, and serve with a smile.
A School of Treats
If you're up for a minimal amount of craftiness with maximum payoff, these school of fish treats are adorable and easy to make in bulk for class favors or Valentine's cards. Purchase the card to print out the fishbowl with cute quotes at home, fill a small bag with the card and fish gummy candy, and you're set. If you're avoiding sugar, goldfish would also be adorable.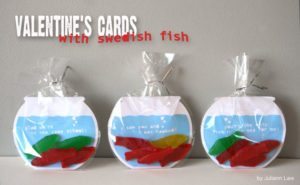 From Etsy
10-Minute Candies
Any other easy recipe for busy moms, these quick candies would be just as tasty in bark form as shaped into hearts as suggested. As long as you're careful with the heat, these would also be good treats to let your little one help you with. They'll love stirring up the chocolate, squirting out the food coloring, and swirling the colored drops around with a fork.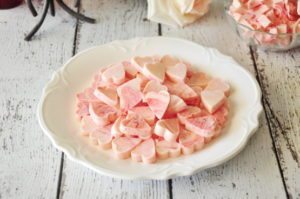 From Food.com
Heart-Shaped Grilled Cheese
Maybe you want to pack a special Valentine's Day lunch, or maybe the kids need a festive dinner while you and your sweetie enjoy more grown-up fare, but either way heart-shaped grilled cheese is the yummiest way to celebrate the holiday. Serve with tomato soup and carrot sticks for a balanced meal. You make even decide this is what you want for dinner yourself!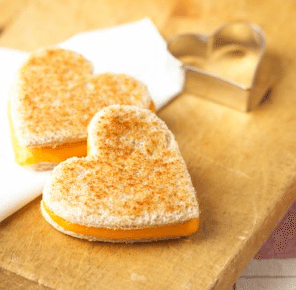 From Haven Recipes
Valentine's Printables
For more minimal/cute classroom treats, check out these free printables that help you make individual treat bags with just the right message. Add your own candy or toys to match. Plastic worms would swap for gummy worms and little rubber bouncy balls would work instead of gumballs.
From Project Nursery
Articles You May Also Enjoy
---
Emily Brown is a preschool teacher, freelance writer, and mom to two energetic, funny little girls with a flair for drama and a shared love of cheese and pickles. She's also written a book on the history and food of restaurants in Birmingham, AL called Birmingham Food: A Magic City Menu.