I haven't even been to your house and can tell you–your kid's room is a mess. Fact is, most kids do not enjoy cleaning up. You can sing songs to help it go better (might I suggest our awesome original "Clean Up Time" song?) but room cleaning ends up being a lot more work on your part than theirs. Here are some fun and functional ideas to help keep kids' rooms clean…er…well…slightly less messy.
Kids are basically terrible at bed-making. Partly because they have short arms and partly because they just do not care. End the struggle over the never-made bed with Beddy's bed sets. This very practical all-in-one bedding set fits securely on the mattress like a fitted sheet and the quilted comforter top zips on to create a perfectly made bed with minimal effort.
I especially love that what touches your child's skin is super-soft minky material. The patterns and color combos offered are seriously cute (Note to self: They have these for adults, too) and they're priced similarly to what you would pay for an entire, high-quality bedding set. Also: they have matching throw pillows. You know, in case you wanted something cute for the kids to leave lying on the floor.
Watch how they work:
If you're drowning in stuffed animals like we are, consider the Boon Animal Bag. Much more functional than those weird nets we used to hang up in the corner to hold our furry friends (oh, nevermind–they still make those)
Boon's storage system doubles as a fun (but probably kind of lumpy) bean bag chair. When your kids want to see their friends, the top opens easily with a zipper. Make clean up fun (and make it actually happen) by encouraging the kids to see who can toss the most stuffed animals into the bag in a minute. For toy storage in the kids' bathroom, Boon's Frog Pod Bath Toy Scoop keeps bath toys mildew-free and out of sight.
This is no huge secret–bins are amazing. Yeah–you know–like, plastic boxes? I have found no other storage system that makes clean-up easier than bins. If you're on child #1, you'll probably want each bin to contain only a certain kind of toy–a bin for cars, a bin for dolls, a bin for blocks, etc. The good news for you is that many come with a spot for labels like these from Pottery Barn.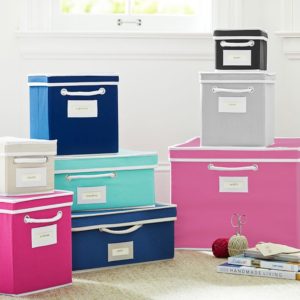 For pretty bins that are fun for kids, check out the 3 Sprouts Storage Box in styles like Peacock, Hedgehog, and Fox. An even better plan for preschool-aged kids is to take and print a picture of the item that goes in a given bin and secure it on the front. Of course, if you're on child #3+, you'd just like all the toys off the ground and in a bin. Any bin. JUST PICK A BIN. Here are some simple, sturdy options from Land of Nod that will survive your kids angrily throwing random things in during clean up time.
Now, sit back and relax with a glass of wine while your kids happily make their rooms spotless. Ha-ha, just kidding! You're still going to have to stand over them the whole time.
Articles You May Also Enjoy
---
Kristen Berthiaume is a clinical psychologist whose other day job is as mom to three willing product testers. Find her articles on all things child-wrangling at "Parenting with a Ph.D." over on birminghammommy.com.