We're thinking about egg activities for preschoolers this week because Spring means new life, new foliage, flowers in bloom, and cute little baby animals, some of which come from eggs. So it only makes sense to explore everything eggtastic, egg activities and recipes, with your little ones come springtime. Eggs are incredible, a sturdy yet delicate vessel for hatching birds and more, plus they're a delicious, versatile, nutritious protein. We've rounded up everything you need to learn about the mighty egg, from activities, to crafts, to kid-friendly recipes. Gather up a dozen (or more), and celebrate the egg.
EGG ACTIVITIES AND CRAFTS
Egg crafts are the perfect way to teach your preschooler about the life cycle of many animals without having to get too deep into the science.
Breakthrough Chick
For this craft you'll need glue, yellow and black paint, plus orange, white, and brown craft paper. Start by drawing a large egg shape on the white paper. Let your little one paint the whole thing a sunny yellow, just like a baby chick. Once dry, have them paint small black circles for eyes and glue a small orange diamond, folded in half to look like a beak, on for the mouth. Next, cut a larger egg shape out of the brown paper and poke a small hole in the center with scissors. Glue the brown paper over the yellow chick, then let your kid tear the hole into a wider opening, just like a baby chick hatching through.
Peak-a-boo Egg
A simple brad makes this broken egg craft interactive. Cut a large egg shape out of light colored paper and let your child decorate it with paint, crayons, stickers, paper scraps, or anything you have around the house. Cut a zigzag line through the middle of the egg and glue a baby chick shape to the back of the bottom half. Reattach the egg halves at one corner with the brad, and as your kid plays with the swinging shape, opening and closing the egg, you can talk about how birds come out of their eggs to be born.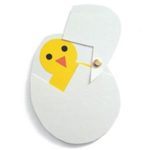 Whose Egg Am I?
This interactive craft shows kids that more than birds come from eggs. Place stickers or simple cut-out silhouettes on a large piece of paper for every kind of egg-born animal you can think of – turtles, lizards, snakes, even dinosaurs – then cover each animal with a different color and size of egg, using a little glue at the top if you want. Get your child to guess what animal each egg hides before lifting the flap to see if she's right.
Egg Shakers
A more sensory version of Whose Egg Am I involves plastic eggs and small plastic or rubber toys (or paper cutouts taped to pennies or something similar to give them heft). Fill the eggs with the toys, then have your child shake them up, listening to the sounds, to guess which animal will "hatch" out of each egg.
Decorating Eggs
What kid doesn't look forward to decorating eggs come Easter? Rather than subject yourself to the inky dyes of your childhood, let your modern kids decorate hard boiled eggs with any of these fresh ideas, alone or in combination: watercolors, temporary tattoos, puffy paint, splatter paint, or glitter glue. Lay out a large drop cloth to cover your table or floor, and let them go wild with their imaginations.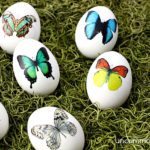 Home Hatchery
If you're feeling super brave or already into homesteading, you can hatch your own chicks pretty easily. This link has great ideas and instructions. Buy a special notebook and check in with the chicks each day, recording your observations. Easy home science!
RECIPES
Egg in a Hole
Egg in a Hole is close to a perfect kid food. Easily palatable, cute, and nutritious. Use a cookie cutter or tear a hole in bread, then place in a skillet heated on medium with a little butter. Cook until nearly set, flip, and cook until done to your likeness. Sprinkle with salt, pepper, and parmesan cheese before serving.
Veggie Scramble
If your kid loves scrambled eggs, like most, adding finely diced veggies is an easy way to increase their take of things like sweet red peppers, spinach, broccoli, asparagus, and more. Heartier vegetables, like sweet potato, you'll want to cook for a bit before adding the eggs, unless you're looking for crunchy texture.
Quiche or Frittata
Quiche and frittatas sound fancy, but they're super easy, basically a scrambled egg pie. Use any combination of veggies, cheese, and meat that you like – bacon, spinach, and swiss, for example. The quiche will be baked in a pie crust, but the frittata is essentially a crustless version. Start in an oven-proof skillet on the stove until the eggs are starting to set, then finish in the oven.
Mini Egg Muffins
Basically little frittatas cooked in mini muffin tins (or big, if you're making a grownup version), these Mini Egg Muffins are perfect for making on the weekend and grabbing for a healthy breakfast-on-the-go each morning. Include your kids' favorite scramble mix-ins, or make them just plain or with cheese.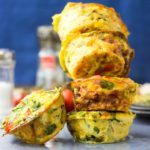 Egg and Bacon/Sausage Panini
Egg Sandwiches of any kind are pretty much the perfect food. And you don't have to invest in a fancy Panini press to make these sandwiches either. Just make the sandwiches in a skillet, like you would a grilled cheese, but use a heavy bottomed second skillet to press down on the sandwich as it cooks. You can also make these in batches in the oven by sandwiching the sandwiches between two cookie sheets and weighting them down with an oven-proof skillet.
Jell-o Eggs
While not exactly a true egg snack, Jell-o eggs are a fun treat in the spirit of eggs. You can purchase a specific Jell-o egg mold, or follow these instructions with supplies you might already have around your house if you've spent an Easter with a preschooler.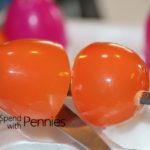 Articles You May Also Enjoy
---
Emily Brown is a preschool teacher, freelance writer, and mom to two energetic, funny little girls with a flair for drama and a shared love of cheese and pickles. She's also written a book on the history and food of restaurants in Birmingham, AL called Birmingham Food: A Magic City Menu.