Race and ethnicity have been major topics in the news lately, from the Black Lives Matter movement to political candidates' comments about immigration. Chances are, your kiddo has heard at least some of this and may have some questions.
Teaching your child about race can be a daunting task, especially since we adults still have a lot to learn ourselves. But understanding and being accepting of racial, ethnic, and cultural differences (and similarities!) is crucially important for children, especially as our lives become more globally-focused.
Unfortunately parents often avoid talking about race for fear that the conversation will create racial biases. Research tells us that isn't the case! Children whose parents have openly talked with them about race from a young age tend to hold fewer racial prejudices. In short, kids are never too young to start learning about race relations – here are some ideas for getting the life-long process started.
Surround Yourself With Color
One of the best ways to teach a child about race is to expose him or her to people of races other than your own ─ maybe through school, religious services, sports teams, or playdates. Guide these interactions to help them go smoothly and positively, and intervene if you hear negative comments based on skin color, culture, etc. More difficult but just as important is that your child see you interact positively with people of different races. If you don't tend to socialize much with people outside of your race, you may need to make a concerted effort to do more of this.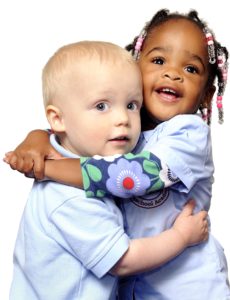 From Hopkins House
Read Outside Your Ethnic Comfort Zone
One of the best ways to start a conversation with your child about race is to read books with main characters of a different race than your own. Choose a mixture of some books that have race as a theme and some that don't, and see what questions or discussion points come up.
Some to start with:
There's really no need to list books with Caucasian main characters – there are plenty of those. Here are some with non-white main characters your child will enjoy:
Be Open to Discussion
If your child has questions about another person's race, encourage him or her to come to you with those questions privately. Be open to discussing his or her curiosities, and correct any mistaken assumptions you hear. It's even O.K. to talk with your child about the fact that you don't have any/many people of other races in your social circle and how this may be something you need to work on changing.
Encourage your child to make friends with kids of other races, and purposely foster those friendships (e.g., playdates, birthday parties, etc.). Even though conversations about race can seem uncomfortable, at least initially, know that you are helping to equip your child to function in a complex, diverse world.
Additional resources:
Articles You May Also Enjoy
---
Kristen Berthiaume is a clinical psychologist whose other day job is as mom to three willing product testers. Find her articles on all things child-wrangling at "Parenting with a Ph.D." over on birminghammommy.com.