We're big believers in preschool programs around here, with all the education and enrichment opportunities they offer. Some schools even send home assessments of each child so the parents can get the full picture on how their children are doing with developmental milestones like fine-motor skills, language, social interactions, and spelling their own names. Maybe your preschool or daycare does this too, and you'd like to know what else you can be working on with your kids. Or maybe you're at home full time with your little ones and you're looking for some guidelines on how to check in on these essential skills. Either way, we're here with a list of what your preschooler should be learning, whether at home or at preschool, to get them ready for the big wide world of kindergarten and beyond.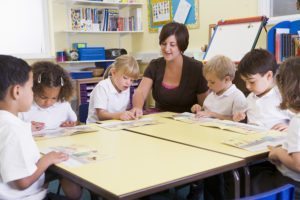 In 2K Your Child Should Be Learning To…
Put away toys, clothes, and clean up after meals
Help with small chores like setting or wiping the table
Know the basic colors by sight and recognize simple shapes
Differentiate between simple opposites
Repeat part of songs or rhymes
String large beads
Tear paper
Work puzzles with large pieces
Walk in a line with other kids
Understand social skills like sharing, taking turns
In 3K Your Child Should Be Learning To…
Wash, dress, and brush teeth (with some help)
Help with simple cooking tasks at home
Sit still to listen to short stories and retell a simple story
Follow two directions at a time
Recite and recognize the alphabet
Hold a crayon or pencil properly and trace objects
Cut with safety scissors
Throw and catch a beanbag or ball
Balance on one foot for a few seconds
Form worms and balls with clay
Zip, button, and snap
Use self-control, follow rules, work independently
Wait turn
Use the potty with only some help
In 4K Your Child Should Be Learning To…
Choose her own clothes and brush hair
Help with larger chores like sweeping and feeding pets
Cut on a line, color in the lines, paint with large and small brushes
Write letters and name
String small beads
Count to 100
Understand simple math, like money
Create and extend patterns
Memorize simple poems and songs
Recognize the days of the week, months of the year
Respect others' belongings
Develop responsibility
Articles You May Also Enjoy
---
Emily Brown is a preschool teacher, freelance writer, and mom to two energetic, funny little girls with a flair for drama and a shared love of cheese and pickles. She's also written a book on the history and food of restaurants in Birmingham, AL called Birmingham Food: A Magic City Menu.