Let's jump into summer with some really cool and trendy kids swimwear for this season. Let me tell you Target is the source. Even if your child wears clothes like Blue Ivy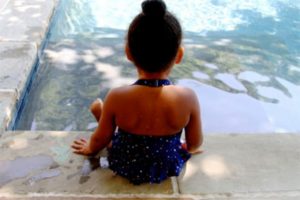 when it comes to bathing suits, unless there is a younger sibling in the house that loves hand-me-downs, a bathing suit is almost a throw away after one season. Why spend a lot of money on bathing gear when you could be spending it on something red and delicious to drink. See: Cosmo recipe.
I checked out what celebrity kids were wearing at the beach this year, we're talking San Trope not the pool at the YMCA,  nonetheless I have to say that Target gets it right.  The fashion is right on the mark and the price is there to match.
The Top Trending Kids Swimwear
Bumble Bee Swimsuit
OMG it doesn't get cuter than this bumble bee suit. Imagine your little one buzzing around the pool in her on-trend bathing outfit. Make your little bee look like the queen that she is for $21.99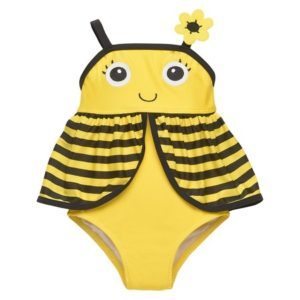 Sailor Swimsuit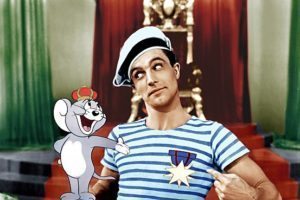 Anchors aweigh my friend! Check out this number. All decked out in red, white and blue, it's a perfect look for dad and daughter to recreate that classic musical with Gene Kelley. If lavish Hollywood musicals aren't dad's thing then a July 4th picnic will do just fine. Get this delightfully patriotic number for $18.99.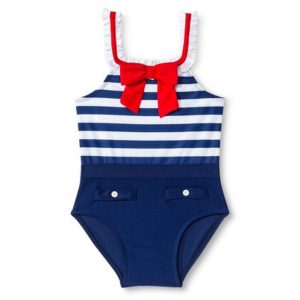 Ninja Turtles Swimsuit
The Ninja Turtles are back and they're hotter than ever. What could possibly say summer like a Ninja Turtle pizza and pool party?! Put your little ninja in these affordable board shorts to make sure he's the coolest one saying cowabunga for $13.99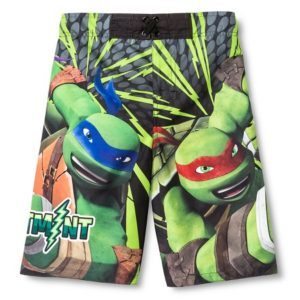 First Mate Swimsuit
Avast ye and check out this swimsuit with rash guard. We just love the look of this officer's uniform. It also comes built in with UPF 50+ protection. Be sure to check the label though, that will eventually wear out with a certain amount of washes. But your little sailor will probably outgrow it first. Say bon voyage for $15.99.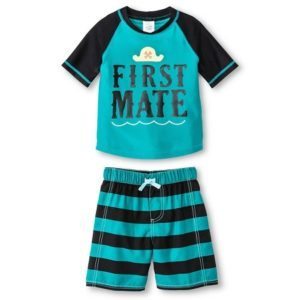 Girls Sunflower Swimsuit
This is just adorbs! A retro pattern that's exactly on-trend right now. It's perfect for a day at the beach, the pool or anywhere in between. The cover up makes a quick full outfit so you never have to be worried about where you're going next. This delightful number is currently on sale for $21.59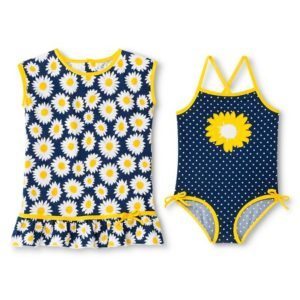 I have to say that the Target buyers do a really bang up job. When it comes to retailing in the girls and boys department their fashion sense is totally on-trend and the prices are very affordable. You really get a big bang for your buck. I promise you and you little tyke will receive compliments galore.  Oh yeah and the convenience of buying online is the big plus. No tantrums in the toy department!
Do you have any kids swimwear ideas that I missed? Let me know in the comments!