When it comes to holidays, the mystery and fun of a chilly Groundhog Day is a bright spot in slushy, wet February. Will the furry little groundhog see his shadow, spelling six more weeks of wintery weather, or will he emerge to cloudy skies and imminent warmer temperatures? Groundhog Day is a quick holiday, without a lot of fuss, so extending the excitement for your little ones with craft projects that let them host their own pretend groundhog ceremony, play with shadows, and more can be enjoyable. You've got to find some way to fill these long, dreary indoor days with fun.
Groundhog Pop-Up
Watch your homemade groundhog peek out from his hiding hole again and again with this simple craft using supplies you probably already have laying around. Gather an empty toilet paper roll, a popsicle stick, construction paper, markers, and glue or tape to get started. Cut a strip of construction paper the height of the paper tube and long enough to wrap around. Let your little one decorate it like a cave or groundhog home, then tape or glue it around the tube. Draw a simple groundhog head shape (like the picture), making sure it's small enough to fit inside the tube easily, and tape or glue it to one end of the popsicle stick. Draw the groundhog head down inside his cave by the stick, slide up to peek out, and away you go. You can also do this with a paper cup if you don't have an empty paper roll around.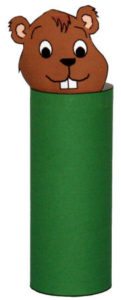 From DLTK-Kids.com
Groundhog Mask
Or make your own groundhog day mask, possibly to wear to a local event where you'll see the real deal. Be prepared to get a bit messy with this one. Let your preschooler paint a large sheet of paper with brown paint, and then once the paint dries, cut out a wide upside-down heart shape for the groundhog face. Cut eyeholes near the heart's point, then draw or paste a nose and whiskers on the opposite end. Don't forget the buck teeth and ears. Tie string to the sides to hold the mask on, and get to pretending to see your shadow (or not).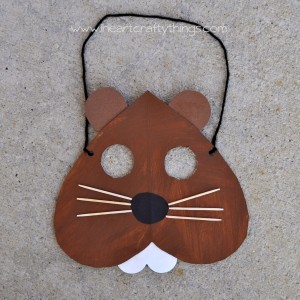 From iheartcraftythings.com
Sun or Clouds Play
The big question for Groundhog Day is whether there will be clouds or sun. Let your little one see both sides of the equation with this sun and clouds craft. Fold a paper plate in half to represent the earth. Color green for grass or brown for rocks. On one end glue a cut-out yellow sun. On the other, glue a cut-out white cloud. Cut out a groundhog shape and glue to a popsicle stick. Cut a hole in the center of the paper plate fold to fit your popsicle stick through, then wiggle your groundhog from side to side to see if he prefers the sun or the clouds.
Groundhog Puppet
Put on your own groundhog puppet show while getting in a little sensory exploration with this groundhog puppet craft. All you need is a paper bag, glue, scraps of ribbon/fur/felt/pipecleaners/paper, and some google eyes to create this cute little guy. Practice popping up under a lamp to see his shadow, then turn the lamp off so he gives the all clear for Spring.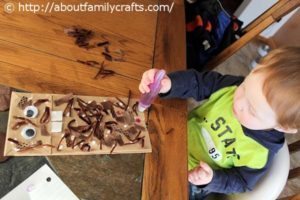 From allaboutfamilycrafts.com
Getting Outdoors
If it's warm enough, definitely look into where you can watch a live groundhog come out to test his shadow in your city. Our local zoo always hosts an event, so that's a good place to start. But if nothing can be found nearby, you can always go for a walk, searching for your own shadows, watching to see when they show and when they might disappear, to make your own predictions for if winter is gone or here to stay for a while longer.
Articles You May Also Enjoy
---
Emily Brown is a preschool teacher, freelance writer, and mom to two energetic, funny little girls with a flair for drama and a shared love of cheese and pickles. She's also written a book on the history and food of restaurants in Birmingham, AL called Birmingham Food: A Magic City Menu.