You know what is so, so great? When you're trying desperately to clean your house and get the food ready for Thanksgiving and your kids are out of school and trying desperately to destroy your house and eat all the food. Yeah – you might want to fire up the Netflix. Here are some Thanksgiving-related options that will contain entertain the kids so you can get started on cooking that turkey (82 hours at 750° – is that right?).
Classic Charlie
You always watch It's the Great Pumpkin, Charlie Brown! and A Charlie Brown Christmas – of course. But, did you know that sandwiched between these two films is 1973's A Charlie Brown Thanksgiving? No? Well, go queue it! Also, check out the This is America, Charlie Brown episode called "The Mayflower Voyagers" for a little history with your Snoopy.
If your kids have seen the new Peanuts movie, they may laugh at the older animation style and language but they'll enjoy the songs and shenanigans – we just can't get enough of loveable blockhead Charlie Brown! Parents of young children should keep in mind that Lucy's not always the nicest and the gang uses words like "stupid." If your kids are going to watch, be prepared to discuss some of these behaviors so they'll remember what's expected for real life.
A Pilgrim Mouse
For more Pilgrim Fun (is that a thing?), find The Mouse on the Mayflower (1968) from the makers of Rudolph the Red-Nosed Reindeer. This film tells the story of a stowaway mouse aboard the Mayflower ship. The ship is on the verge of sinking because of a huge storm, but luckily William the pilgrim mouse (did I mention that mice can be pilgrims?) comes up with a plan to save everyone. From there, kids will hear about the Plymouth Rock landing, Mayflower Compact, and colony construction. The film culminates with planting and harvesting crops for a huge Thanksgiving celebration.
For the Littlest Ones
Littles will love Winnie the Pooh: Seasons of Giving (1999). Other fun G-rated options with familiar characters are Sesame Street: Trashgiving Day (2013), Max's Thanksgiving (2004) featuring the bunnies from Max and Ruby, and Wildkratts: Happy Turkey Day (2012) featuring the PBS series' animated brothers. These are good options if you're concerned about the sometimes rude language in other films – there's nothing objectionable here. The messages are positive and the stories teach kids more about why we celebrate Thanksgiving.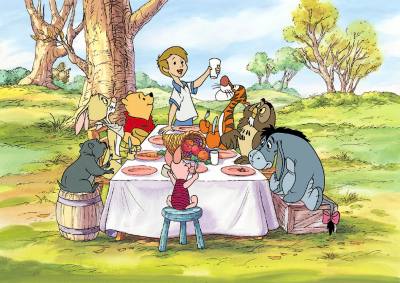 Also, you should probably make your kids play some, too. But, like, outside. Happy Turkey Day!
Articles You May Also Enjoy
---
Kristen Berthiaume is a clinical psychologist whose other day job is as mom to three willing product testers. Find her articles on all things child-wrangling at "Parenting with a Ph.D." over on birminghammommy.com.